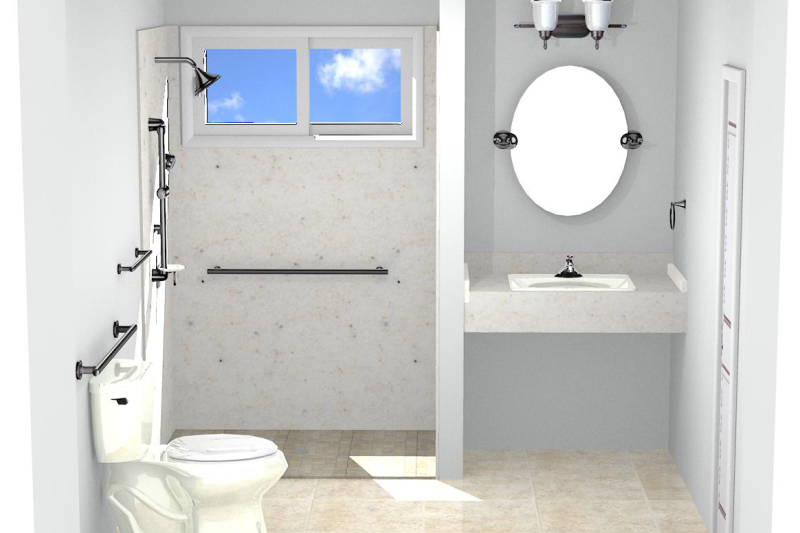 April 12, 2016 Design, Bathroom
The Aging-in-place Bathroom
Bathrooms are the most commonly used areas in every home and at the same time, typically the most dangerous. The combinations of water, steam, smooth tile floors, curbs and transitions to-or from the shower or tub make this room prone to extreme accident, especially when living with seniors and those that need hands on assistance. When it comes to falls and major accidents, statistics have shown that the highest percentage of injuries occur in the bathroom. Considering that this areas sees the most traffic along with the most disasters it is not foolish to put The Aging-in-place bathroom it at the top of the priority list when remodeling for a universal, aging-in-place design.
With this being said, the following modifications range from economical and simple to expensive and complex. Take a look at what you can do as well as how Homeworks can help you achieve a safer easier-to use bathroom.
Location

As with all the other parts of the home in a universal design, having the bathroom in an easy-to-access location is a great starting off point. Yes, the safest layout and design for Aging-in-place is within a single story dwelling. However, with the correct modifications, it is possible to live safely in a multiple level home. In a multi-level home situation, it is best to make sure there is at least one bathroom on each level that follows aging-in-place guidelines so that your loved ones or those you care for do not have to rush up or down stairs or elevators to get to the bathroom. When planning the layout of your new home, addition or remodel with Homeworks it is a great tool to let us know right away that a Universal theme is going to be needed for at least part of the Home. Our Aging-in-place specialist will bring their expertise to the conversation and find successful ways to incorporate a layout that brings together your Aging-in-place needs with the ability to still have your own space.
The Toilet

Transitioning between standing up and sitting down is considered the one of the most dangerous actions and has the highest risk for a potential fall. This is why having the toilet at the proper height can make an incredible difference in the comfort and safety of your bathroom. The toilet should be at what is called either the "Universal Height" or the "Comfort Height" which is between 17 and 18 inches from the floor to the top of the seat. Two of the most common choices for achieving a toilet with the proper dimensions are adding a seat extender or buying a new toilet at the proper height. The former is the most economical choice and can be purchased at any home health care stores. Other things to consider are installing a toilet paper holder that can be easily reached when sitting and also, one that can be easily changed out with one hand. Keep in mind that every person's condition is different and abilities vary so be sure to think about who will be using the toilet most and what would be most effective for them because in some cases a taller toilet could possibly create more issues than a normal one.
Space To Move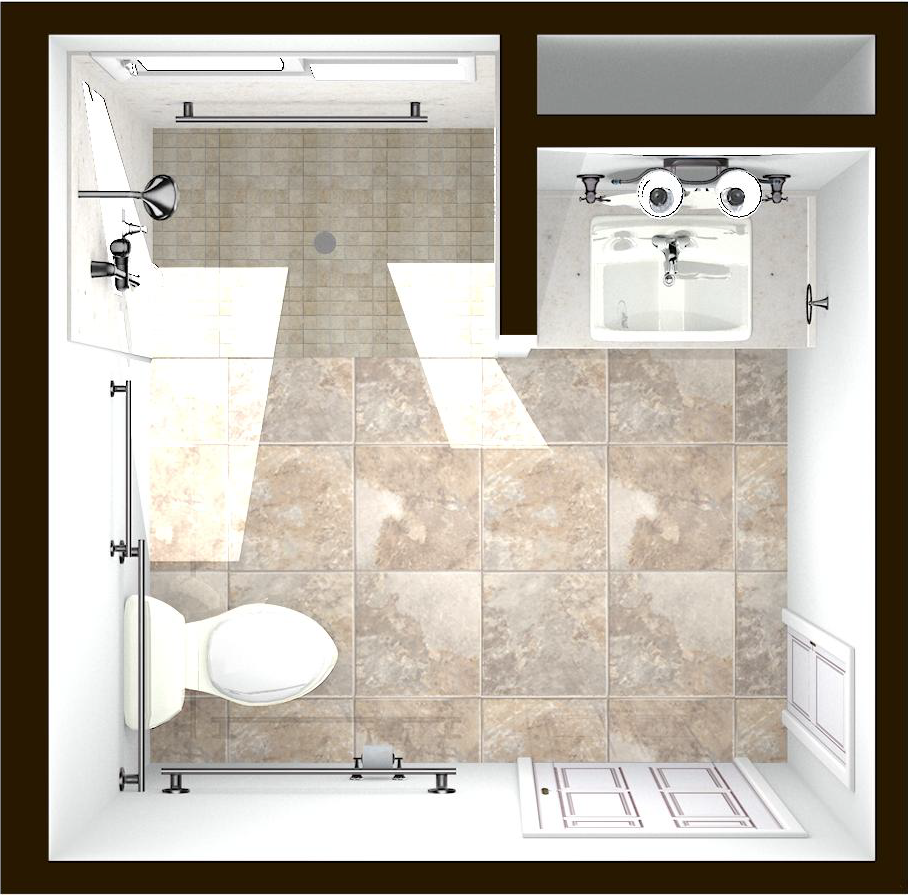 When designing an Aging-in place layout for your New Home, Addition or Remodel think about the space that is needed to move around and how this will become more of an issue with age. It is a great idea to plan for the use of a wheelchair, canes, walkers, a personal caretaker or any similar devises especially when transitioning from Mid-life to elderly or when designing part of your project specifically for someone that will need constant care or assistance. The ideal situation would be to create plenty of clear, movable space to accommodate someone in a wheelchair around the toilet, sink, bathtub or shower stalls and areas around cabinets and closets. Here are some common dimensions that are good to know when in the design stage of a universal layout. The Bathroom should be approximately 5'6″ wide for good turning radius, doors going into the room or bathroom should all be 3′ wide doors instead of 2'6″, hallways should be made to 4′ instead of 3′ and showers should be approximately 4′ by 5′ for a wheelchair and another person in there if needed.
Grab Bars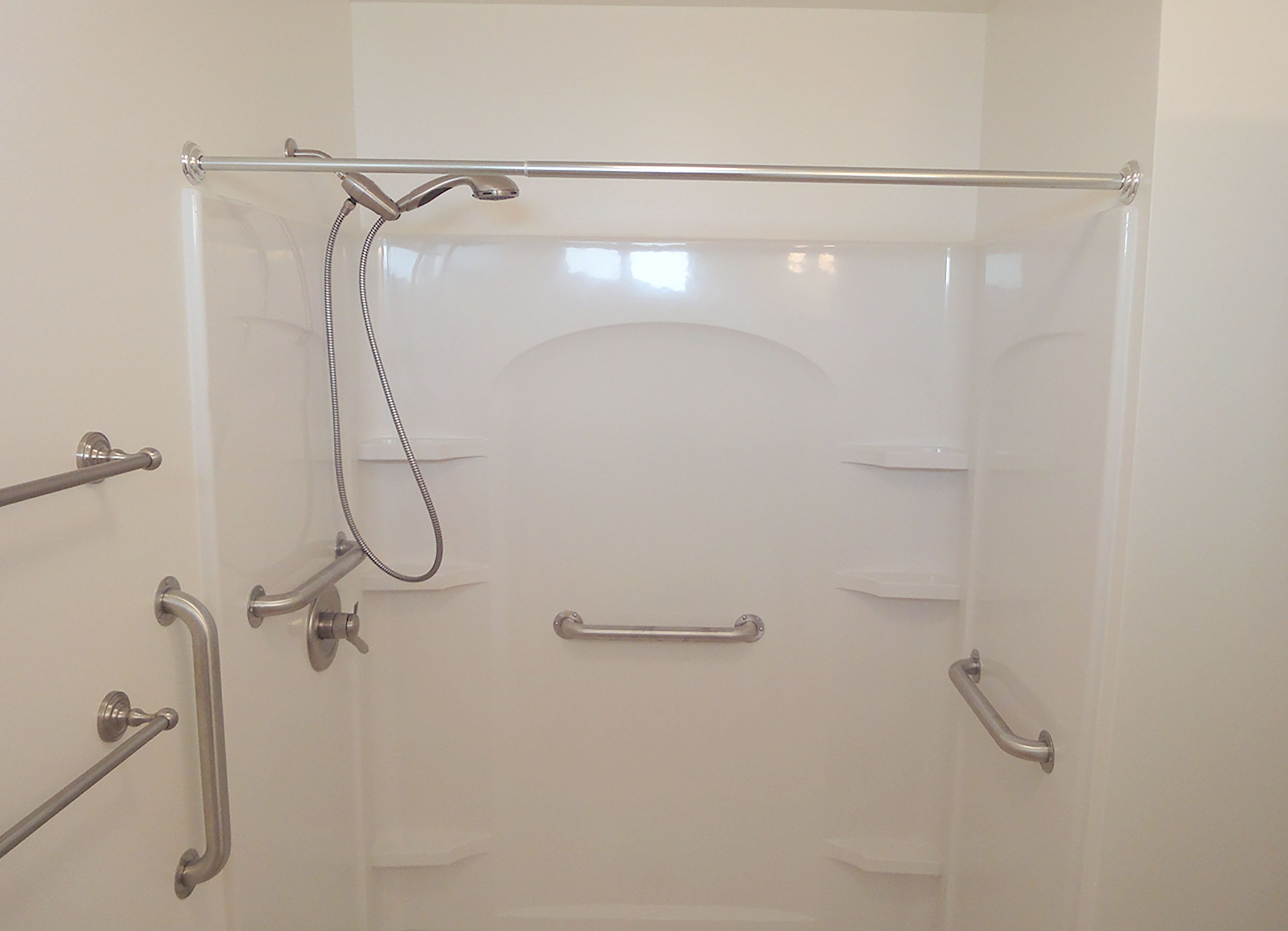 Typically, when people think of Grab Bars they think of something cold and metal with the look and feel of a unappealing hospital room. However, today it is easy to find and design with a variety of colors and styles to match your decor while still providing the safe function you need. Installing grab bars can dramatically increase the safety of your bathroom and can also be used in other areas around the house including bedrooms, hallways or any other area that requires one to stand up or where walking assistance is needed. When installed by the toilet, Grab Bars help with sitting and standing. In the shower or tub, they can help a person to stand or stay standing as well as transition easier around wet surfaces. When designing with Homeworks, make sure to let us know up front if you are thinking about installing grab bars in certain areas later on because we will take the extra steps to add extra bracing and backing to the walls in these areas to prepare them for future grab bars and to keep you from having to remodel all over again.
Bathtubs and Showers

Most homes in America have bathtubs that are not accessible without stepping up and over into them which creates a major safety issue for those that wish to age-in place. One option when remodeling or adding a new aging-in place bathroom is to install a walk-in tub that is made specifically for this reason but come with more expensive budget. More reasonably priced options for making a standard tub safer include installing grab bars, a shower seat and applying a non-slip coating to the bathtub floor. For Showers, the most accessible option is a barrier-free roll-in shower. This means that there is no splash curb and that the opening to the shower is a minimum of 36″ wide. This is big enough to allow access for a wheelchair and give those that will be standing plenty of room to maneuver. Another trick for the shower is to install an adjustable shower head along with one that is hand held. This type of shower head will move its position and height to accommodate the user and in conjunction with the hand-held unit will make the experience much more comfortable as well as increase the level of safety.